About Florianus Graphics: We are an independent publishing group located in Pitt Meadows (Vancouver), British Columbia, Canada. We comprise of talented people skilled in graphics design, computer programming, photography and mechanical engineering. With a background in botany and professional nature photography, founder Victoria Vancek, initially specialized in scientific, botanical illustration. However, over the past 6 years, the group has expanded their computer services to website design, database management, desktop publishing, computerized custom illustration, and professional photography (visit Victoria's representing stock photo agency and view some of her photos at: http://www.northwestphotoworks.com .

Visual Basic Programming: Need to reinvent your sales & marketing strategies? As companies continue to compete for business they must adopt cutting edge marketing strategies to expand customer service and public relations. Today, multimedia marketing is the way to go! CD-ROM authoring is one of many creative approaches to marketing your product line, improve sales in spare parts or provide a lasting impression on potential clients during a presentation or trade show. We can help you design a flashy presentation, electronic catalog for your product line, spare parts list, installation and maintenance manuals on CD-ROM. Our clientele come from various service sectors: manufacturing, engineering, retailers and individuals.
Site Designed by Victoria Vancek. Copyright © 2001. All Rights Reserved. The photos and images on this site are the sole property of Victoria Vancek.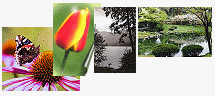 Summary Of Services:
Website design

Desktop Publishing

Computerized Custom Illustration

Professional Photography

Database Management

Software Development Using Visual Basic Programming

E-Catalogs/Promotional CDs
Mechanical Engineering!

AutoCAD (drafting, detailing)

Solid Works (3-D modeling)
Need help with your mechanical engineering projects? Our professional mechanical engineers have over 25 years of experience in the marine and forestry sector. Send us your inquiries!

vvancek@lightspeed.ca